Bale on Ancelotti
Submitted by
content
on Fri, 04/28/2017 - 06:04
Real Madrid forward Gareth Bale has praised Carlo Ancelotti for his contribution to Real Madrid.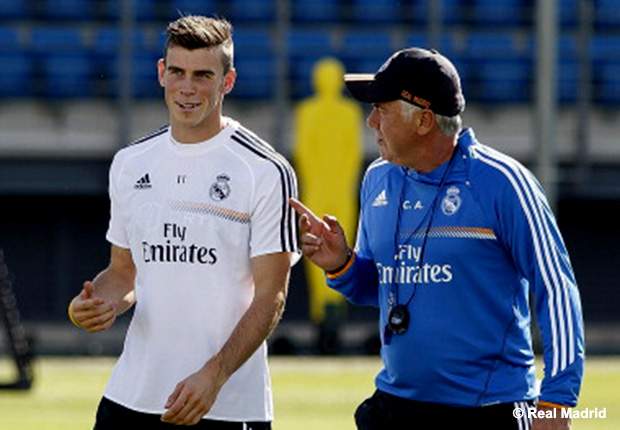 He said that he is one of the best managers that he has worked with and that he will be forever grateful for what he has done for him.
Indeed it was Carlo Ancelotti who brought Gareth Bale to Real Madrid, and he paid £86million to sign the player from Premier League club Tottenham Hotspurs.
Gareth Bale said that it was easy to play for Ancelotti and that he has a clear vision of how football should be played. He said that the manager was a highly experienced one and he knows how to get the best out of his players.
Bale said that Ancelotti never placed unnecessary pressure on his players and that he allowed them to have some freedom on the pitch.
Gareth Bale believes that the Real Madrid staff are also well qualified and that they know how to plan the players training schedule to allow them plenty of rest ahead of important matches.

He believes that this is all down to Carlo Ancelotti's experience and that it is for this reason that he has been able to adapt quickly to the demand of the Spanish league.
He believes that Real Madrid has a great chance of winning the title this season and it is important that the players remain focus. He said that they have managed to get vital points in some of the toughest games and it is important that they do not lose unnecessary points during the closing stage of the season.
He believes that Zidane has the necessary experience to manage the team despite the fact that he is relatively young compared to Ancelotti and that he should be able to help the team win the league this season.