WHY IS ZINEDINE ZIDANE NOT PRAISED AS MUCH?
Submitted by
content
on Sat, 12/10/2016 - 06:26
Real Madrid ex-player turned manager Zinedine Zidane has been impressive as the club's coach since taking over.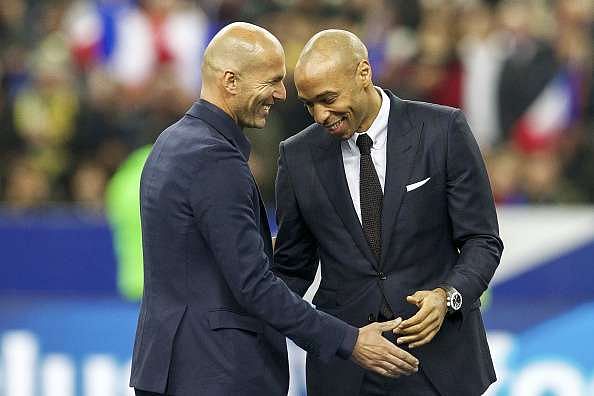 The Spanish side are currently on a 31-game unbeaten streak in all competitions, aside winning the Champions League and UEFA Super Cup – by thrashing Sevilla, Europa League winner – and sitting top of the La Liga table, yet Zidane's praises are not being sung.
Zidane is set to add the La Liga title this year with Real currently six points clear and in top shape to go the long haul. The last time the club won the La Liga title was in 2012 under Jose Mourinho but the Frenchman wants to dominate the home scene after conquering Europe last season. Despite the recurrent spate of injuries at the Bernabeu, Zidane has kept the team running. Almost all the players have been injured recently, from Cristiano Ronaldo to Gareth Bale, Raphael Varane, Fabio Coentrao, Pepe, Sergio Ramos, Isco, Alvaro Morata, Luka Modric, Marcelo, Toni Kroos, James Rodriguez, Keylor Navas, Karim Benzema and many others.

Under such a short time, Zidane has done so much at a club where he was expected to fail. There are critics that say the coach has been fortunate, and that he has enjoyed successes not as a result of his sterling tactics but good player ego management. Well, one attribute of a good manager is keeping things simple, managing people and simply getting the job done.
Zidane has been flexible. During the 3-0 victory over one of the toughest teams in the world, Atletico Madrid, he changed from 4-3-3 to 4-4-1-1 formation. Ronaldo played as a striker as Benzema was out injured. Isco had a free role, as Bale and Lucas Vazquez played wide. While Zidane still has a long way to go, he has recorded some successes that should keep critics off his back. So why is Zidane not praised as much?